UPDATE: Intense Downpours Flood Roadways, Trigger Rockslides, Create Treacherous Driving Conditions
SAN FRANCISCO (CBS SF) — Rachib Dahnoun's drive from Bodega Bay to the San Francisco International Airport was sidetracked early Thursday by an intense rainstorm that swept through the San Francisco Bay Area, triggering flood advisory across the region and possibly keeping him from catching his flight.
Dahnoun and his Uber driver were forced to abandon their vehicle when it stalled in several inches of water pooled on Highway 1 near Valley Ford in West Sonoma County.
"We were just headed to the airport, going to see my in-laws, and the road here was flooded," he said. "It was super dark and by the time and we got into it, it was just too late. We had the windows down and thinking about bailing out when the fire department showed up."
Dahnoun stood by the highway, his soaked bags nearby while he waited for another Uber driver in the hopes of still catching a flight to see his family on the east coast.
"I'm probably going to miss it," he said of his flight to New Jersey.
In Marin County, a large rockslide tumbled onto the Muir Woods Rd, blocking access from the north to the national park. Further to the south, Highway 1 was closed because of a slide of rocks and debris near Big Sur Deetjen's Big Sur Inn in Monterey County and Ragged Point in San Luis Obispo County.
Marin rockslide
Since the early morning hours, California Highway Patrol officers had been scrambling to respond to more than two dozen crashes as the potent weather system moved through the Bay Area.
Amid the steady downpours the National Weather Service issued flood advisories for Alameda, Contra Costa, Marin, Napa, San Francisco, San Mateo and Sonoma counties. The advisory expires at 9:30 a.m. for San Mateo County and 10:45 a.m. in Sonoma County.
"Doppler radar and automated rain gauges indicated heavy rain during the morning has resulted in rapid rises on area creeks," the weather service warned. "This will cause urban and small stream flooding. Creek levels will be slow to recede through the morning."
By 8 a.m., the weather service reported that over the last 24 hours 2.72 inches of rain had fallen on Mt. Diablo, 2.21 inches in Kentfield and nearly 3 inches of rain in the Santa Cruz Mountains.
Northbound Highway 13 was completely blocked by a large fallen tree just past Redwood Road. Drivers were turning around and exiting at the on-ramp.
Northbound Highway 13 just past Redwood Road is completely blocked by a large tree across the road. Cars are turning around and exiting at the on-ramp @sfchronicle #CAwx pic.twitter.com/7raYFiqUmq
— Jessica Christian (@jachristian) December 23, 2021
Many Bay Area locations saw rainfall totals of an inch or more an hour as the front moved through the area around 6 a.m., leading to minor flooding and ponding on roadways.
Widespread rain continues over the region this Thursday morning. Look for ponding on roadways if driving with periods of rain to continue through at least midday. Additionally, minor urban and small stream flooding will be possible in the region's typical problematic spots. #CAwx pic.twitter.com/vA4brAIzUF
— NWS Bay Area (@NWSBayArea) December 23, 2021
A large boulder had tumbled onto Skyline Blvd. near Four Corners in the Santa Cruz Mountains and there was a rockslide in Orinda on Highway 24 at Fish Ranch Road Exit.
Minor roadway flooding was reported on Highway 101 at Lucky Drive, on northbound I-680 at North Main and East Hillcrest was closed between Hemlock Ave. and Aviador Ave. in San Mateo County.
The Cal Fire San Mateo-Santa Cruz Unit also reported flooding on Highway 1 in Moss Beach.
Here is another look at the flooding in Moss Beach at Hwy 1 this morning. We are in for an extended period of rain, and driving conditions are expected to deteriorate. For your safety, drive with extreme caution, and stay home if possible. #CaWx @sanmateoco pic.twitter.com/QH2no0ghWH
— CAL FIRE CZU (@CALFIRECZU) December 23, 2021
Meanwhile, deteriorating conditions forced San Francisco Bay Ferry officials to cancel the 7:15 a.m. trip into San Francisco. Wet conditions were forcing "10-minute-delays system wide" on BART during the morning commute.
During the stormy early morning hours, an Audi slammed into a big rig on eastbound Highway 24 at about 3 a.m., sending it hurling off the freeway. The crumbled remains of the truck fell 25 feet onto Pleasant Hill Road.
Fortunately, the big rig driver was not injured, but fuel leaked onto Pleasant Hill Road, forcing it to be shut down while it was being cleaned up. The crash remained under investigation. It was not known if it was weather related, but the roadway was wet and rain was falling at the time of the crash.
Original Article: sanfrancisco.cbslocal.com
A First As the World Warms: New Forecasts Could Help Predict Marine Heat Waves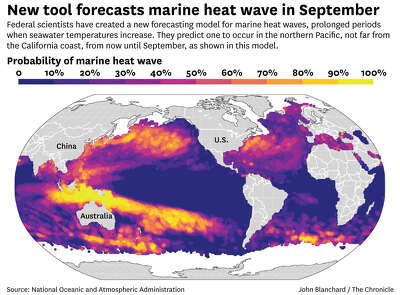 Scientists have developed a new system to predict when and where marine heatwave is likely to develop.
Collisions Cause Major Traffic Backups in Bothell and Arlington
Traffic in the Puget Sound region came to a stop Wednesday morning due to two separate incidents, one in Bothell and the other near Arlington. On southbound Interstate 405 in Bothell, a collision near Highway 527 closed the two right lanes, the Washington State Department of Transportation announced on Twitter. The resulting traffic backup is […]
Source Here: seattletimes.com
DISH Network to Pay $5.5M Settlement Over Alleged Hazardous Waste Disposal Violations
OAKLAND (CBS SF) — Satellite TV provider DISH Network will pay $5.5 million to settle a lawsuit accusing it of illegally disposing of hazardous waste in Alameda County and elsewhere in the state.
DISH Network is alleged to have violated California environmental laws by sending hazardous waste to local landfills that are not equipped or authorized to receive the waste.
According to state Attorney General Rob Bonta, audits of DISH facilities in California found that DISH repeatedly disposed of hazardous waste since 2005 in violation of the Hazardous Waste Control Law and Unfair Competition Law.
"If you break the rules, we will hold you accountable," said Bonta in a press release. "For years, DISH carelessly disposed of and sent hazardous waste to local landfills, ignoring the consequences for our communities and our environment. From there, hazardous chemical elements from electronic devices, batteries, aerosols, and more could seep into soil and contaminate our environment. Today's settlement is critical. Large corporations like DISH have a responsibility to respect our environmental laws and do their part to protect our state's precious resources."
"My Office is committed to holding corporate polluters accountable for violations of state environmental laws," said Alameda County District Attorney Nancy O'Malley in a statement. "Hazardous electronic waste is ubiquitous, and everyone must do their part to keep these items out of the landfill, especially large corporations who handle high volumes of electronic waste."
As a provider of TV and video services to residential and business customers, DISH employees manage large volumes of electronic equipment, such as remote controls, transformers, and power adapters, various batteries, aerosol cans, and other items classified as hazardous waste.
The Colorado-based company will pay for penalties, costs, and supplemental environmental project to benefit the community while making significant changes to its operations and practices to come into compliance with state law.
Specifically, DISH must:
• Pay $5.5 million, including $3.32 million in civil penalties, $835,500 in litigation costs, and $845,000 for supplemental environmental projects. DISH must also spend $500,000 to implement enhanced environmental compliance measures to ensure proper management of hazardous waste at its California facilities.
• Hire an independent third-party auditor to perform environmental compliance audits at DISH's 25 facilities across the state;
• Conduct regular inspections of facility trash dumpsters and roll-off containers to ensure the containers do not contain hazardous waste; and
• Provide training to employees to ensure compliance with California's hazardous waste laws.
According to the attorney general's and Alameda DA's offices, the DISH settlement is the fifth case of a telecom industry giant addressing unlawful disposal and management of hazardous waste. The two offices have also successfully prosecuted AT&T, Comcast, DirecTV, and Cox Communications for similar environmental violations related to illegal disposals of large volumes of electronic waste from their cable and satellite video services.
Source Here: sanfrancisco.cbslocal.com