UAB Pediatrician Urges Parents to Vaccinate Children 5 to 11 Once Available
One of UAB's top pediatric doctors is encouraging parents to vaccinate their children ages 5 to 11 if the Pfizer COVID-19 vaccine for the younger children is approved next week as expected.
Kimberlin, co-director of UAB and Children's of Alabama's Division of Pediatric Infectious Diseases, said the FDA is almost assuredly going to follow the recommendation of its advisory committee, which voted 17-0 Tuesday to recommend the vaccine.
"They voted that the benefits of the COVID vaccine for 5- to 11-year-olds outweighed the risks," Kimberlin said. "I would anticipate over the next few days we would have a full authorization from the FDA … and on I think Tuesday of next week the CDC will have their own external advisory committee that will also look at these data and will make a recommendation as to whether or not the vaccine should be used. So FDA says it may be used, CDC says how it should be used."
Although COVID-19 has not affected children at the same rate or severity as older adults, Kimberlin said the risk should still be taken into account.
"More than 500 children have died during the course of this pandemic from COVID disease," Kimberlin said. "Right now for 5- through 11-year-olds, COVID is the eighth-leading cause of death. This is something that, while parents may say 'I think it is unlikely that this is going to happen to my child' — you know, they're right, it is unlikely; but it's not impossible."
Kimberlin likened it to buckling up a child before taking a road trip.
"This is a somewhat imperfect analogy, but if you're going to drive from (Birmingham) to Huntsville today and you're child's in the back seat, are you going to buckle them up?" Kimberlin said. "I think the answer's yes and the reason you do it is because, in the very unlikely situation that you're going to be in a car wreck, that will protect them and potentially save their life."
Waiting to get the vaccine, Kimberlin said, would be like waiting until halfway through the trip to buckle the child.
"Why? All you've done in that situation is put the child at risk for the first half of the journey," Kimberlin said. "Why wait? The possibility of harm is definitely there and you're not taking advantage of the opportunity of benefit."
Although children have a high rate of survival of COVID-19, Kimberlin pointed out that doctors still don't know about the potential long-term effects of the disease.
As a bonus, vaccinating children can serve to further suppress the spread of the disease, Kimberlin said.
"It also has the added benefit of protecting the people around that 5- to 11-year-old," Kimberlin said. "The older grandparent who's at risk of getting COVID and at their advanced age are at risk of having more severe disease and perhaps even dying from it. Or somebody at church if a child gives it to another child at church and the second child brings it back and infects their grandmother or grandfather. This trickle-down effect when we're talking about a highly infectious disease … we have to all protect ourselves and in so doing we are protecting others."
Kimberlin said the FDA study sample size was not large enough to actually observe any cases of myocarditis, but even assuming the instance of myocarditis was comparable to other groups, the benefits would still outweigh the risks.
"What the committee looked at yesterday was what about the very rare side effects that we see in older adolescents and young adults, what if we assumed that same thing could happen in these younger children?" Kimberlin said. "What would that look like in terms of the potential risks and how would it compare with the potential benefits? And what they determined in six different models is that the frequency and severity of myocarditis is much less than the benefit of using the vaccine."
Kimberlin also dismissed the potential for the vaccine to affect puberty or fertility, stating there is no evidence of that.
Although Kimberlin acknowledged that Alabama is "in a good spot right now" as new cases, hospitalizations and deaths have fallen off since reaching a peak in August and September, he warned against becoming complacent.
"We've been in this position before and every time we think 'thank God that's over with.' It's not over, the next wave is coming," Kimberlin said. "None of us have a crystal ball on what is coming in the future, but the time to protect yourself is now, not when the tsunami is crashing on the beach. This is the real time to do it. Buckle up before the car pulls out of the garage."
Pfizer's doses for children ages 5 to 11 are a third of what adults receive, the company said, and in clinical trials proved to be 90 percent effective at preventing symptomatic infection in those children.
Original Source: alreporter.com
A First As the World Warms: New Forecasts Could Help Predict Marine Heat Waves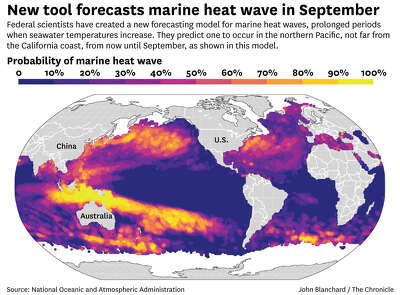 Scientists have developed a new system to predict when and where marine heatwave is likely to develop.
Collisions Cause Major Traffic Backups in Bothell and Arlington
Traffic in the Puget Sound region came to a stop Wednesday morning due to two separate incidents, one in Bothell and the other near Arlington. On southbound Interstate 405 in Bothell, a collision near Highway 527 closed the two right lanes, the Washington State Department of Transportation announced on Twitter. The resulting traffic backup is […]
Source Here: seattletimes.com
DISH Network to Pay $5.5M Settlement Over Alleged Hazardous Waste Disposal Violations
OAKLAND (CBS SF) — Satellite TV provider DISH Network will pay $5.5 million to settle a lawsuit accusing it of illegally disposing of hazardous waste in Alameda County and elsewhere in the state.
DISH Network is alleged to have violated California environmental laws by sending hazardous waste to local landfills that are not equipped or authorized to receive the waste.
According to state Attorney General Rob Bonta, audits of DISH facilities in California found that DISH repeatedly disposed of hazardous waste since 2005 in violation of the Hazardous Waste Control Law and Unfair Competition Law.
"If you break the rules, we will hold you accountable," said Bonta in a press release. "For years, DISH carelessly disposed of and sent hazardous waste to local landfills, ignoring the consequences for our communities and our environment. From there, hazardous chemical elements from electronic devices, batteries, aerosols, and more could seep into soil and contaminate our environment. Today's settlement is critical. Large corporations like DISH have a responsibility to respect our environmental laws and do their part to protect our state's precious resources."
"My Office is committed to holding corporate polluters accountable for violations of state environmental laws," said Alameda County District Attorney Nancy O'Malley in a statement. "Hazardous electronic waste is ubiquitous, and everyone must do their part to keep these items out of the landfill, especially large corporations who handle high volumes of electronic waste."
As a provider of TV and video services to residential and business customers, DISH employees manage large volumes of electronic equipment, such as remote controls, transformers, and power adapters, various batteries, aerosol cans, and other items classified as hazardous waste.
The Colorado-based company will pay for penalties, costs, and supplemental environmental project to benefit the community while making significant changes to its operations and practices to come into compliance with state law.
Specifically, DISH must:
• Pay $5.5 million, including $3.32 million in civil penalties, $835,500 in litigation costs, and $845,000 for supplemental environmental projects. DISH must also spend $500,000 to implement enhanced environmental compliance measures to ensure proper management of hazardous waste at its California facilities.
• Hire an independent third-party auditor to perform environmental compliance audits at DISH's 25 facilities across the state;
• Conduct regular inspections of facility trash dumpsters and roll-off containers to ensure the containers do not contain hazardous waste; and
• Provide training to employees to ensure compliance with California's hazardous waste laws.
According to the attorney general's and Alameda DA's offices, the DISH settlement is the fifth case of a telecom industry giant addressing unlawful disposal and management of hazardous waste. The two offices have also successfully prosecuted AT&T, Comcast, DirecTV, and Cox Communications for similar environmental violations related to illegal disposals of large volumes of electronic waste from their cable and satellite video services.
Source Here: sanfrancisco.cbslocal.com