San Francisco's Popular Zuni Cafe to Require COVID Booster Proof From Diners
SAN FRANCISCO (CBS SF) — With the omicron variant outbreak growing larger every day, the owners of San Francisco's popular Zuni Cafe have announced they will be requiring indoor diners to not only provide the city mandated proof of COVID vaccination but also confirmation they have gotten a booster shot.
They said the requirement — the toughest of any San Francisco restaurant — was being instituted to protect the health of its staff from the extremely contagious strain.
"We remain disinterested in invading your medical records and we have a strong desire to keep the guests and workers of Zuni Cafe safe," the owners said on an Instagram post. "We look forward to a time when this will not be necessary."
The owners said the booster requirement for indoor dining will go into effect on Wednesday, December 29th. There also is one exception.
"Diners 4 years and younger who are ineligible for vaccinations are welcome to dine indoors with their party," the post said. "Diners without proof of vaccination are welcome as guests at our outdoor tables."
Other Bay Area restaurants face also facing difficult choices as the omicron outbreak continues to grow.
"We had someone on the team test positive for COVID yesterday morning so we had to cancel the whole event and it's incredibly frustrating," said Imana, the creator of Hi Felicia Supper Club.
The project hosts dinners in Oakland as a pop-up but a restaurant is one of their goals for 2022. For now, their service is on hold and they will take January off to regroup.
Restaurants in Oakland and the South Bay have also posted limited service or temporary closures on social media.
"We've had such a year and 2021 was starting to look a little promising but it is what it is," said Tracy Marin, the regional manager of Asian Box in San Francisco.
The Cow Hollow neighborhood in San Francisco has many restaurants with various degrees of COVID restrictions depending on the business. Some have stayed in a takeout only format, others kept the safety measures they first brought out at the beginning of the pandemic.
"We are telling our stores to bring back hand sanitizers, in the stores we are making sure that everyone is wearing the proper masks, we have sneeze guards up," Marin told KPIX 5.
The Golden Gate Restaurant Association sent a newsletter to members on Monday encouraging the booster for any restaurant staff eligible for the additional dose as a way to protect from the omicron variant.
"It's just the new normal I think, we have to get used to this new variant," Imana said.
The California Restaurant Association said in a statement that the latest variant is evidence that the pandemic continues to impact restaurants. The CRA said the industry will need help to come out of the challenges of the past two years.
Article: sanfrancisco.cbslocal.com
A First As the World Warms: New Forecasts Could Help Predict Marine Heat Waves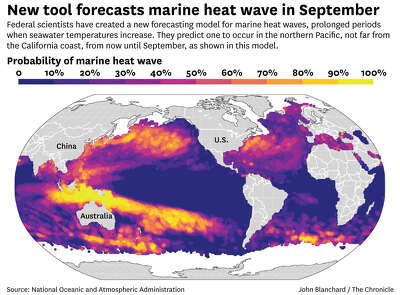 Scientists have developed a new system to predict when and where marine heatwave is likely to develop.
Collisions Cause Major Traffic Backups in Bothell and Arlington
Traffic in the Puget Sound region came to a stop Wednesday morning due to two separate incidents, one in Bothell and the other near Arlington. On southbound Interstate 405 in Bothell, a collision near Highway 527 closed the two right lanes, the Washington State Department of Transportation announced on Twitter. The resulting traffic backup is […]
Source Here: seattletimes.com
DISH Network to Pay $5.5M Settlement Over Alleged Hazardous Waste Disposal Violations
OAKLAND (CBS SF) — Satellite TV provider DISH Network will pay $5.5 million to settle a lawsuit accusing it of illegally disposing of hazardous waste in Alameda County and elsewhere in the state.
DISH Network is alleged to have violated California environmental laws by sending hazardous waste to local landfills that are not equipped or authorized to receive the waste.
According to state Attorney General Rob Bonta, audits of DISH facilities in California found that DISH repeatedly disposed of hazardous waste since 2005 in violation of the Hazardous Waste Control Law and Unfair Competition Law.
"If you break the rules, we will hold you accountable," said Bonta in a press release. "For years, DISH carelessly disposed of and sent hazardous waste to local landfills, ignoring the consequences for our communities and our environment. From there, hazardous chemical elements from electronic devices, batteries, aerosols, and more could seep into soil and contaminate our environment. Today's settlement is critical. Large corporations like DISH have a responsibility to respect our environmental laws and do their part to protect our state's precious resources."
"My Office is committed to holding corporate polluters accountable for violations of state environmental laws," said Alameda County District Attorney Nancy O'Malley in a statement. "Hazardous electronic waste is ubiquitous, and everyone must do their part to keep these items out of the landfill, especially large corporations who handle high volumes of electronic waste."
As a provider of TV and video services to residential and business customers, DISH employees manage large volumes of electronic equipment, such as remote controls, transformers, and power adapters, various batteries, aerosol cans, and other items classified as hazardous waste.
The Colorado-based company will pay for penalties, costs, and supplemental environmental project to benefit the community while making significant changes to its operations and practices to come into compliance with state law.
Specifically, DISH must:
• Pay $5.5 million, including $3.32 million in civil penalties, $835,500 in litigation costs, and $845,000 for supplemental environmental projects. DISH must also spend $500,000 to implement enhanced environmental compliance measures to ensure proper management of hazardous waste at its California facilities.
• Hire an independent third-party auditor to perform environmental compliance audits at DISH's 25 facilities across the state;
• Conduct regular inspections of facility trash dumpsters and roll-off containers to ensure the containers do not contain hazardous waste; and
• Provide training to employees to ensure compliance with California's hazardous waste laws.
According to the attorney general's and Alameda DA's offices, the DISH settlement is the fifth case of a telecom industry giant addressing unlawful disposal and management of hazardous waste. The two offices have also successfully prosecuted AT&T, Comcast, DirecTV, and Cox Communications for similar environmental violations related to illegal disposals of large volumes of electronic waste from their cable and satellite video services.
Source Here: sanfrancisco.cbslocal.com