President Biden Orders Release of Strategic Oil Reserve to Stem Surging Gas Prices
WASHINGTON (CBS SF/AP) — As sky-high gas prices in the San Francisco Bay Area move the average price in California to new heights, President Joe Biden on Tuesday ordered 50 million barrels of oil released from America's strategic reserve to help bring down gasoline and energy costs.
Biden's action was in coordination with other major energy-consuming nations, including India, the United Kingdom and China.
The move is aimed at global energy markets, but also at U.S. voters who are coping with higher inflation and rising prices ahead of Thanksgiving and winter holiday travel. Gasoline prices are at about $3.40 a gallon, more than 50% higher than a year ago, according to the American Automobile Association.
In California, however, the average price is currently $4.71 a gallon, a drop from last week's record surge to more than $4.85 a gallon. In the Bay Area, gas prices have topped $5 a gallon in many areas.
AAA said recent heavy rainstorms in Northern California have pinched production capacity, which then trickled down to Southern California — just what happened in Louisiana with Hurricane Ida.
The government will begin to move barrels into the market in mid- to late-December.
But the action is unlikely to immediately bring down gas prices significantly as families begin traveling for the holidays. Gasoline usually responds at a lag to changes in oil prices, and administration officials suggested this is one of several steps toward ultimately bringing down costs.
Oil prices had dropped in the days ahead of the announced withdrawals, a sign that investors were anticipating the moves that could bring a combined 70 million to 80 million barrels of oil onto global markets. But in Tuesday morning trading, prices shot up nearly 2% instead of falling.
The market was expecting the news, and traders may have been underwhelmed when they saw the details, said Claudio Galimberti, senior vice president for oil markets at Rystad Energy.
"The problem is that everybody knows that this measure is temporary," Galimberti said. "So once it is stopped, then if demand continues to be above supply like it is right now, then you're back to square one."
Shortly after the U.S. announcement, India said it would release 5 million barrels from its strategic reserves. And the British government confirmed it will release up to 1.5 million barrels from its stockpile. Japan and South Korea are also participating. Administration officials say it's the biggest coordinated release from global strategic reserves.
Prime Minister Boris Johnson's spokesman, Max Blain, said it was "a sensible and measured step to support global markets" during the pandemic recovery. Blain added that British companies will be authorized but not compelled to participate in the release.
The actions by the U.S. and others also risk counter moves by Gulf nations, especially Saudi Arabia, and by Russia. Saudi Arabia and other Gulf countries have made clear they intend to control supply to keep prices high for the time being.
As word spread in recent days of a coming joint release from U.S. and other countries' reserves, there were warnings from OPEC interests that those countries may respond in turn, reneging on promises to increase supplies in coming months.
Biden has scrambled to reshape much of his economic agenda around the issue of inflation, saying that his recently passed $1 trillion infrastructure package will reduce price pressures by making it more efficient and cheaper to transport goods.
Republican lawmakers have hammered the administration for inflation hitting a 31-year high in October. The consumer price index soared 6.2% from a year ago — the biggest 12-month jump since 1990.
Senate Republican Leader Mitch McConnell tore into the White House in a floor speech last week, saying the victims of higher prices were middle-class Americans.
"The three biggest drivers of the staggering 6.2% inflation rate we logged last month were housing, transportation, and food," the Kentucky senator said. "Those aren't luxuries, they're essentials, and they take up a much bigger share of families' budgets from the middle class on down."
The Strategic Petroleum Reserve is an emergency stockpile to preserve access to oil in case of natural disasters, national security issues and other events. Maintained by the Energy Department, the reserves are stored in caverns created in salt domes along the Texas and Louisiana Gulf Coasts. There are roughly 605 million barrels of petroleum in the reserve.
"As we come out of an unprecedented global economic shutdown, oil supply has not kept up with demand, forcing working families and businesses to pay the price," Energy Secretary Jennifer Granholm said in a statement. "This action underscores the president's commitment to using the tools available to bring down costs for working families and to continue our economic recovery."
The Biden administration has argued that the reserve is the right tool to help ease the supply problem. Americans used an average of 20.7 million barrels a day during September, according to the Energy Information Administration. That means that the release nearly equals about two-and-a-half days of additional supply.
The pandemic roiled energy markets. As the closures began in April, 2020, demand collapsed and oil futures prices turned negative. Energy traders did not want to get stuck with crude that they could not store. But as the economy recovered, prices jumped to a seven-year high in October.
U.S. production has not recovered. Energy Information Administration figures indicate that domestic production is averaging roughly 11 million barrels daily, down from 12.8 million before the pandemic started.
Republicans have also seized on Biden's efforts to minimize drilling and support renewable energy as a reason for the decreased production, though there are multiple market dynamics at play as fossil fuel prices are higher around the world.
Meanwhile, Biden and administration officials insist that tapping more oil from the reserve does not conflict with the president's long-term climate goals, because this is a short-term fix to meet a specific problem, while climate policies are a long-term answer over decades.
They argue that because they are pushing to boost renewable energy, there will eventually be less dependence in the U.S. on fossil fuels. But that's a politically convenient argument — in simple terms, higher prices reduce usage, and significantly higher gasoline prices could force Americans into less reliance on fossil fuels.
"The only long term solution to rising gas prices is to continue our march to eliminate our dependence on fossil fuels and create a robust green energy economy," Senate Democratic Leader Chuck Schumer said in support of the release.
The White House decision comes after weeks of diplomatic negotiations. Biden and President Xi Jinping of China talked over steps to counter tight petroleum supplies in their virtual meeting earlier this month and "discussed the importance of taking measures to address global energy supplies," according to the White House.
The U.S. Department of Energy will make the oil available from the Strategic Petroleum Reserve in two ways; 32 million barrels will be released in the next few months and will return to the reserve in the years ahead, the White House said. Another 18 million barrels will be part of a sale of oil that Congress authorized.
White House Press Secretary Jen Psaki said Monday evening the White House would keep tabs on the oil companies that "have made record profits" and will watch for price-gouging "when there's a supply of oil or the price of oil is coming down and the price of gas is not coming down."
© Copyright 2021 CBS Broadcasting Inc. All Rights Reserved. The Associated Press contributed to this report.
Original Post: sanfrancisco.cbslocal.com
A First As the World Warms: New Forecasts Could Help Predict Marine Heat Waves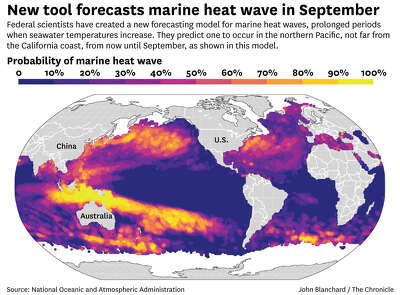 Scientists have developed a new system to predict when and where marine heatwave is likely to develop.
Collisions Cause Major Traffic Backups in Bothell and Arlington
Traffic in the Puget Sound region came to a stop Wednesday morning due to two separate incidents, one in Bothell and the other near Arlington. On southbound Interstate 405 in Bothell, a collision near Highway 527 closed the two right lanes, the Washington State Department of Transportation announced on Twitter. The resulting traffic backup is […]
Source Here: seattletimes.com
DISH Network to Pay $5.5M Settlement Over Alleged Hazardous Waste Disposal Violations
OAKLAND (CBS SF) — Satellite TV provider DISH Network will pay $5.5 million to settle a lawsuit accusing it of illegally disposing of hazardous waste in Alameda County and elsewhere in the state.
DISH Network is alleged to have violated California environmental laws by sending hazardous waste to local landfills that are not equipped or authorized to receive the waste.
According to state Attorney General Rob Bonta, audits of DISH facilities in California found that DISH repeatedly disposed of hazardous waste since 2005 in violation of the Hazardous Waste Control Law and Unfair Competition Law.
"If you break the rules, we will hold you accountable," said Bonta in a press release. "For years, DISH carelessly disposed of and sent hazardous waste to local landfills, ignoring the consequences for our communities and our environment. From there, hazardous chemical elements from electronic devices, batteries, aerosols, and more could seep into soil and contaminate our environment. Today's settlement is critical. Large corporations like DISH have a responsibility to respect our environmental laws and do their part to protect our state's precious resources."
"My Office is committed to holding corporate polluters accountable for violations of state environmental laws," said Alameda County District Attorney Nancy O'Malley in a statement. "Hazardous electronic waste is ubiquitous, and everyone must do their part to keep these items out of the landfill, especially large corporations who handle high volumes of electronic waste."
As a provider of TV and video services to residential and business customers, DISH employees manage large volumes of electronic equipment, such as remote controls, transformers, and power adapters, various batteries, aerosol cans, and other items classified as hazardous waste.
The Colorado-based company will pay for penalties, costs, and supplemental environmental project to benefit the community while making significant changes to its operations and practices to come into compliance with state law.
Specifically, DISH must:
• Pay $5.5 million, including $3.32 million in civil penalties, $835,500 in litigation costs, and $845,000 for supplemental environmental projects. DISH must also spend $500,000 to implement enhanced environmental compliance measures to ensure proper management of hazardous waste at its California facilities.
• Hire an independent third-party auditor to perform environmental compliance audits at DISH's 25 facilities across the state;
• Conduct regular inspections of facility trash dumpsters and roll-off containers to ensure the containers do not contain hazardous waste; and
• Provide training to employees to ensure compliance with California's hazardous waste laws.
According to the attorney general's and Alameda DA's offices, the DISH settlement is the fifth case of a telecom industry giant addressing unlawful disposal and management of hazardous waste. The two offices have also successfully prosecuted AT&T, Comcast, DirecTV, and Cox Communications for similar environmental violations related to illegal disposals of large volumes of electronic waste from their cable and satellite video services.
Source Here: sanfrancisco.cbslocal.com