Opinion | Millions of Dollars' Worth of Bluster
If it weren't so damaging to Alabama's reputation and treasury, I'd just laugh at Attorney General Steve Marshall's bold claim about the federal mandate for COVID-19 vaccinations by Dec. 8.
Alabama's research universities, including Auburn University and those in the University of Alabama system have to comply because they are federal contractors or subcontractors. Noncompliance means millions of dollars in lost federal revenue.
UAB is an international research university; it's not going ditch the federal dime. Most big universities in all states benefit from federal money. But if they don't vaccinate their employees, well, the checks stop there.
When that federal vaccine mandate was announced Friday, Marshall couldn't help himself:
"I want to assure the people of Alabama that my office will fight this contemptable (sic) infringement on individual liberty, federalism, and the separation of powers"
I will be challenging President Biden's federal-contractor vaccine mandate in court. Here is my statement: pic.twitter.com/UtZhw3OOR2
— Attorney General Steve Marshall (@AGSteveMarshall) October 23, 2021
OK, I've got to have a little chuckle here. I've been covering Alabama politics (college sports, of course, and state government) for nearly 45 years. I can't remember all the lost causes that the state of Alabama has fought because of federal "contempt of infringement on individual liberty." And lost.
Let's see, there's the state's mental health system, and the Department of Human Resources, and the state's Department of Corrections (many times). There's the awful anti-immigration law (HB56) and so many others, only since I've been in Alabama.
Before that, there were cases supporting segregation, against school integration, over poll taxes, and many over voting rights.
Little Stevie Marshall, 6 or 7 years old, was likely dragged into a room, kicking and screaming, to be given vaccines for measles, mumps, and rubella, along with lots of others. Mandatory vaccines. To protect his schoolmates.
But see, politics for Republicans like Steve Marshall don't include reason. It's not "popular" to Republicans for the government to mandate stuff today. Mandates, though, are the cost of being a good citizen. 
When the government mandated military service through the draft for young men, they had to go willingly, or go to Canada. When local, state, and federal governments mandate we pay taxes, we pay (except, that is, for huge corporations). When the state mandates that we have driver licenses and register our vehicles, we do it, because we want to drive.
Did Steve Marshal ever have his tighty-whities in a twist over all of that?
We vaccinate because the diseases we can get affect other people as well. COVID is highly contagious, so we vaccinate so that we don't give this deadly virus to others around us. Like measles. Like smallpox. Like mumps.
Some people are stubborn or are, well, dumb. We have to force them to vaccinate because if we don't, they won't. It's for their own good and ours.
All I see Marshall doing is what he's done before: Waste the public dollars of a poor state fighting another losing battle for strictly political reasons. Doesn't matter if he wins or loses; he gets the credit from his base anyway.
When visitors cross into Alabama, they likely stop at one of our lovely Welcome Centers. There they will see a big block of stone with this motto: "We Dare Defend Our Rights." As they say these days, that's misinformation. Fake news. The stone block should read: We Dare to Spend Millions of Taxpayer Dollars Unsuccessfully Defending Our Rights." But the boulders at our Welcome Centers just aren't that large.
So, I have an edit. Let those sculptures read: "We Dare Defend Our Wrongs." 
As one of my wonderful Facebook friends tells me often when she's "editing" one of my columns on the morning it is published:
"There. I fixed it."
Joey Kennedy, a Pulitzer Prize winner, writes a column each week for Alabama Political Reporter. Email: jkennedy@alreporter.com. Twitter: @joeykennedy
Original Post: alreporter.com
A First As the World Warms: New Forecasts Could Help Predict Marine Heat Waves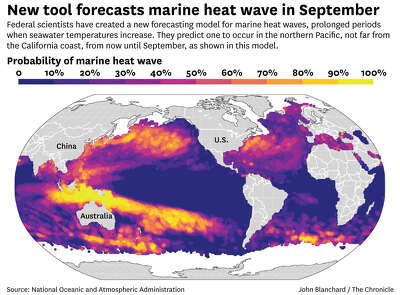 Scientists have developed a new system to predict when and where marine heatwave is likely to develop.
Collisions Cause Major Traffic Backups in Bothell and Arlington
Traffic in the Puget Sound region came to a stop Wednesday morning due to two separate incidents, one in Bothell and the other near Arlington. On southbound Interstate 405 in Bothell, a collision near Highway 527 closed the two right lanes, the Washington State Department of Transportation announced on Twitter. The resulting traffic backup is […]
Source Here: seattletimes.com
DISH Network to Pay $5.5M Settlement Over Alleged Hazardous Waste Disposal Violations
OAKLAND (CBS SF) — Satellite TV provider DISH Network will pay $5.5 million to settle a lawsuit accusing it of illegally disposing of hazardous waste in Alameda County and elsewhere in the state.
DISH Network is alleged to have violated California environmental laws by sending hazardous waste to local landfills that are not equipped or authorized to receive the waste.
According to state Attorney General Rob Bonta, audits of DISH facilities in California found that DISH repeatedly disposed of hazardous waste since 2005 in violation of the Hazardous Waste Control Law and Unfair Competition Law.
"If you break the rules, we will hold you accountable," said Bonta in a press release. "For years, DISH carelessly disposed of and sent hazardous waste to local landfills, ignoring the consequences for our communities and our environment. From there, hazardous chemical elements from electronic devices, batteries, aerosols, and more could seep into soil and contaminate our environment. Today's settlement is critical. Large corporations like DISH have a responsibility to respect our environmental laws and do their part to protect our state's precious resources."
"My Office is committed to holding corporate polluters accountable for violations of state environmental laws," said Alameda County District Attorney Nancy O'Malley in a statement. "Hazardous electronic waste is ubiquitous, and everyone must do their part to keep these items out of the landfill, especially large corporations who handle high volumes of electronic waste."
As a provider of TV and video services to residential and business customers, DISH employees manage large volumes of electronic equipment, such as remote controls, transformers, and power adapters, various batteries, aerosol cans, and other items classified as hazardous waste.
The Colorado-based company will pay for penalties, costs, and supplemental environmental project to benefit the community while making significant changes to its operations and practices to come into compliance with state law.
Specifically, DISH must:
• Pay $5.5 million, including $3.32 million in civil penalties, $835,500 in litigation costs, and $845,000 for supplemental environmental projects. DISH must also spend $500,000 to implement enhanced environmental compliance measures to ensure proper management of hazardous waste at its California facilities.
• Hire an independent third-party auditor to perform environmental compliance audits at DISH's 25 facilities across the state;
• Conduct regular inspections of facility trash dumpsters and roll-off containers to ensure the containers do not contain hazardous waste; and
• Provide training to employees to ensure compliance with California's hazardous waste laws.
According to the attorney general's and Alameda DA's offices, the DISH settlement is the fifth case of a telecom industry giant addressing unlawful disposal and management of hazardous waste. The two offices have also successfully prosecuted AT&T, Comcast, DirecTV, and Cox Communications for similar environmental violations related to illegal disposals of large volumes of electronic waste from their cable and satellite video services.
Source Here: sanfrancisco.cbslocal.com