Opinion | It's Chicken Dancing Season
For no explainable reason, when I was a kid, I watched the movie "Pure Country" — a cheesy, poorly acted, terribly written love story starring George Strait with a ponytail — at least two dozen times. I think we — several friends and some family joined in this self-inflicted torture — only watched it so we could poke fun at its ridiculously over-acted scenes and absurd dialogue. 
But from the rubble of that multi-song country music video, we were given the "dancing chicken" life lesson. 
For those of you blessed enough to have never experienced this cinematic masterpiece, let me explain: Strait's character, Dusty Chandler, a music superstar who's unhappy with the way his entire life, and particularly his music career, is being managed, explains that his pre-packaged, force-fed stadium shows make him feel like this poor dancing chicken he and a buddy watched perform at a county fair when they were younger. 
The chicken had no desire to dance. He only wanted to eat. But the handler lured the chicken onto a stage using food, and once he was out there, the handler kept upping the temperature underneath the stage. The rising heat prompted the chicken to "dance" and entertain the unaware and gullible audience. 
I write all of that about a bad movie to say this: there is no better metaphor for Alabama politics than "Pure Country's" dancing chickens. 
It is truly theater of the absurd and disgusting. A bunch of smarter-than-that chickens forced to dance due to the heat applied by a radical base of conservative voters who live in a Newsmax bubble.
Just this week, a respected businessman and war veteran, Mike Durant, jumped into the race for U.S. Senate, and he did so by proclaiming his devotion to former President Donald Trump. 
Now, maybe that doesn't sound so odd for a Republican in Alabama to utter Trump's name early and often. But Durant isn't just some candidate. He's a POW. The story of his capture and ultimate rescue in Somalia in 1993 were the centerpiece of the movie "Black Hawk Down." The man worked on the campaign of another famous POW — the late Arizona Sen. John McCain. 
The same John McCain who when he was asked about McCain's war heroism, Trump famously said, "He was only famous because he was captured. I like people who don't get captured."
Yeah, that's how hot the floor is under the feet of these chickens. It'll force a former POW to snuggle up to someone who doesn't like POWs. 
But make no mistake, Durant isn't alone on that dance floor. 
Nearly every Republican in this state has made some anti-vaccine, anti-mask comment over the past year and a half. Hell, half the ALGOP legislators will have bills they try to force through during the upcoming special session on redistricting. 
The overwhelming majority of these people are vaccinated and routinely wear masks, as do their children. They understand the science, and that masks work, and they know that masks are the best option for keeping young children from spreading the virus. 
Doesn't matter. As former state Sen. Dick Brewbaker said on our podcast last week, when "even the prophet himself, Donald Trump" suggested at the Cullman rally that people get the vaccine, he was booed loudly. And so, the chickens don't dare tempt those flames. If some kids have to be hospitalized, so be it. 
It doesn't stop there. 
A few weeks back, our secretary of state, John Merrill, entertained one of the Kings of Crazy, the CEO of MyPillow, Mike Lindell. Had a nice roundtable meeting with Lindell to discuss voter fraud in the 2020 presidential election, as if that were a real thing. 
It's not, and Merrill knows it's not. But the dance floor was open, so Merrill danced. And he was appropriately burned. 
Lindell left the meeting and promptly made wild, baseless accusations about 100,000 votes flipping in Alabama's election. Those claims were just as true as all the other election fraud claims made up and repeated by Republicans over the last two years. 
Nothing more than chickens dancing to entertain the base — to give angry people what they want to hear. To play on their fears. To use their anger and these lies to gather votes. 
In many ways, it's how Jan. 6 happened at all. A bunch of chickens danced and danced, telling and spreading lies about election fraud that they absolutely knew to be false — that many of them have been caught in private conversations saying outright that the allegations were made up and ridiculous — all to stoke the anger and appease the base. 
Doesn't it ever get tiring? Or embarrassing? I mean, there has to be some shame in continuing to tell lies and play these phony characters in public while knowing that, in the cases of COVID and Jan. 6 — you're putting lives at risk and selling out the country, right? 
Or maybe we've moved past that to an anti-shame America. One where anything goes and all that matters is winning, truth be damned. 
What I know for sure is that the chickens are still dancing.
Article: alreporter.com
A First As the World Warms: New Forecasts Could Help Predict Marine Heat Waves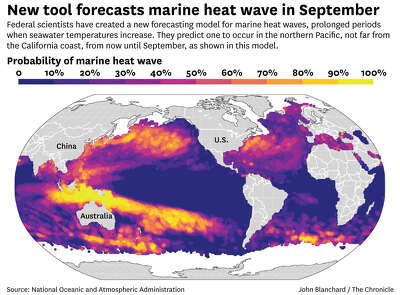 Scientists have developed a new system to predict when and where marine heatwave is likely to develop.
Collisions Cause Major Traffic Backups in Bothell and Arlington
Traffic in the Puget Sound region came to a stop Wednesday morning due to two separate incidents, one in Bothell and the other near Arlington. On southbound Interstate 405 in Bothell, a collision near Highway 527 closed the two right lanes, the Washington State Department of Transportation announced on Twitter. The resulting traffic backup is […]
Source Here: seattletimes.com
DISH Network to Pay $5.5M Settlement Over Alleged Hazardous Waste Disposal Violations
OAKLAND (CBS SF) — Satellite TV provider DISH Network will pay $5.5 million to settle a lawsuit accusing it of illegally disposing of hazardous waste in Alameda County and elsewhere in the state.
DISH Network is alleged to have violated California environmental laws by sending hazardous waste to local landfills that are not equipped or authorized to receive the waste.
According to state Attorney General Rob Bonta, audits of DISH facilities in California found that DISH repeatedly disposed of hazardous waste since 2005 in violation of the Hazardous Waste Control Law and Unfair Competition Law.
"If you break the rules, we will hold you accountable," said Bonta in a press release. "For years, DISH carelessly disposed of and sent hazardous waste to local landfills, ignoring the consequences for our communities and our environment. From there, hazardous chemical elements from electronic devices, batteries, aerosols, and more could seep into soil and contaminate our environment. Today's settlement is critical. Large corporations like DISH have a responsibility to respect our environmental laws and do their part to protect our state's precious resources."
"My Office is committed to holding corporate polluters accountable for violations of state environmental laws," said Alameda County District Attorney Nancy O'Malley in a statement. "Hazardous electronic waste is ubiquitous, and everyone must do their part to keep these items out of the landfill, especially large corporations who handle high volumes of electronic waste."
As a provider of TV and video services to residential and business customers, DISH employees manage large volumes of electronic equipment, such as remote controls, transformers, and power adapters, various batteries, aerosol cans, and other items classified as hazardous waste.
The Colorado-based company will pay for penalties, costs, and supplemental environmental project to benefit the community while making significant changes to its operations and practices to come into compliance with state law.
Specifically, DISH must:
• Pay $5.5 million, including $3.32 million in civil penalties, $835,500 in litigation costs, and $845,000 for supplemental environmental projects. DISH must also spend $500,000 to implement enhanced environmental compliance measures to ensure proper management of hazardous waste at its California facilities.
• Hire an independent third-party auditor to perform environmental compliance audits at DISH's 25 facilities across the state;
• Conduct regular inspections of facility trash dumpsters and roll-off containers to ensure the containers do not contain hazardous waste; and
• Provide training to employees to ensure compliance with California's hazardous waste laws.
According to the attorney general's and Alameda DA's offices, the DISH settlement is the fifth case of a telecom industry giant addressing unlawful disposal and management of hazardous waste. The two offices have also successfully prosecuted AT&T, Comcast, DirecTV, and Cox Communications for similar environmental violations related to illegal disposals of large volumes of electronic waste from their cable and satellite video services.
Source Here: sanfrancisco.cbslocal.com