Middle School Teacher's Political Rant Recorded by Student Touches on Hunter Biden, Election, Vaccines
VENTURA, Calif. (CBS Los Angeles) – A history teacher at Anacapa Middle School in Ventura, California in has come under scrutiny for political comments in the classroom that were recorded by a student. That student's parent is now criticizing the school for not taking appropriate action.
"People need to wake up and see the government has way too much power right now," the teacher can be heard saying on the recording.
For Sarah Silikula, the parent of the eighth grader who recorded the comments, it was a lesson she wasn't expecting her son to hear. Silikua told her son that if he was ever uncomfortable with what was being said to pull out his phone and start recording it. That's exactly what the eighth grader did when his history teacher went on a political rant in class.
"Hunter Biden, for example, is doing deals with China and Ukraine where he was funneling money illegally. He also had child pornography on his laptop. He was having sexual intercourse with his own niece," the teacher says on the recording
"I mean, why? Why does that need to be said in this classroom full of children," Silikula asked.
The incident occurred two weeks ago at Anacapa Middle School. Silikula said she alerted the school immediately becuase her son came home very confused. "And he got in the car and he was very upset. He announced, 'I'm never getting vaccinated. I'm never getting anymore shots of any kind. Did you know Trump's still president?'" Silikula said.
In the seven minute recording taken on Oct. 18, the teacher discusses vaccines.
"If you have a baby in the hospital, they don't want to give it back if you're not vaccinated. This is a complete power control threat," the teacher tells the class.
The teacher also made comments about the justice system and the presidential election, where at one point, a teacher's aide can be heard suggesting that she does not need to discuss the election.
"I trusted her to teach him the facts about history and she went off on this rant like a preacher on a pulpit," Silikula said.
It was a moment that Silikula said damaged her relationship with her son because he believes his teacher. "When he first got in the car and said, 'Dad, teachers know everything. She's right, dad. You're wrong.' He's damaged. He's hurt. He's scared. He doesn't trust his parents now. He thinks we lied to him," Silikula said of her son.
What upsets Silikua further was that the other parents with childre in the class are unaware of the teacher's political comments in the classroom.
The school district said they did conduct an investigation into the incident and that they do not condone the discussion that took place. They also told CBS Los Angeles that they are following the "progressive discipline policy" as agreed to with the teachers' union.
The superintendent told Silikula that her son's entire class was moved to another teacher, but she said it's not enough. She wants to make sure the lesson learned was that a teacher's opinion should never be taught in the classroom. "Whatever anybody's political belief is, I respect. It's their belief," Silikula said. "Don't impose it on my child who I trusted in your care."
CBS Los Angeles has chosen not to release the name of the teacher involved in the incident, as she has not been charged with a crime. The teacher, at last report, was still at the school and had accepted responsibility for her error in judgment.
Original Article: sanfrancisco.cbslocal.com
A First As the World Warms: New Forecasts Could Help Predict Marine Heat Waves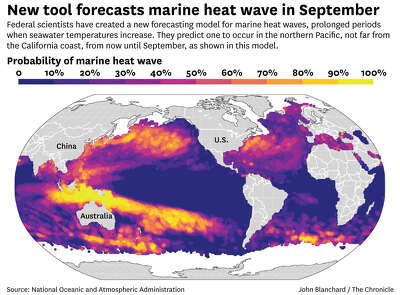 Scientists have developed a new system to predict when and where marine heatwave is likely to develop.
Collisions Cause Major Traffic Backups in Bothell and Arlington
Traffic in the Puget Sound region came to a stop Wednesday morning due to two separate incidents, one in Bothell and the other near Arlington. On southbound Interstate 405 in Bothell, a collision near Highway 527 closed the two right lanes, the Washington State Department of Transportation announced on Twitter. The resulting traffic backup is […]
Source Here: seattletimes.com
DISH Network to Pay $5.5M Settlement Over Alleged Hazardous Waste Disposal Violations
OAKLAND (CBS SF) — Satellite TV provider DISH Network will pay $5.5 million to settle a lawsuit accusing it of illegally disposing of hazardous waste in Alameda County and elsewhere in the state.
DISH Network is alleged to have violated California environmental laws by sending hazardous waste to local landfills that are not equipped or authorized to receive the waste.
According to state Attorney General Rob Bonta, audits of DISH facilities in California found that DISH repeatedly disposed of hazardous waste since 2005 in violation of the Hazardous Waste Control Law and Unfair Competition Law.
"If you break the rules, we will hold you accountable," said Bonta in a press release. "For years, DISH carelessly disposed of and sent hazardous waste to local landfills, ignoring the consequences for our communities and our environment. From there, hazardous chemical elements from electronic devices, batteries, aerosols, and more could seep into soil and contaminate our environment. Today's settlement is critical. Large corporations like DISH have a responsibility to respect our environmental laws and do their part to protect our state's precious resources."
"My Office is committed to holding corporate polluters accountable for violations of state environmental laws," said Alameda County District Attorney Nancy O'Malley in a statement. "Hazardous electronic waste is ubiquitous, and everyone must do their part to keep these items out of the landfill, especially large corporations who handle high volumes of electronic waste."
As a provider of TV and video services to residential and business customers, DISH employees manage large volumes of electronic equipment, such as remote controls, transformers, and power adapters, various batteries, aerosol cans, and other items classified as hazardous waste.
The Colorado-based company will pay for penalties, costs, and supplemental environmental project to benefit the community while making significant changes to its operations and practices to come into compliance with state law.
Specifically, DISH must:
• Pay $5.5 million, including $3.32 million in civil penalties, $835,500 in litigation costs, and $845,000 for supplemental environmental projects. DISH must also spend $500,000 to implement enhanced environmental compliance measures to ensure proper management of hazardous waste at its California facilities.
• Hire an independent third-party auditor to perform environmental compliance audits at DISH's 25 facilities across the state;
• Conduct regular inspections of facility trash dumpsters and roll-off containers to ensure the containers do not contain hazardous waste; and
• Provide training to employees to ensure compliance with California's hazardous waste laws.
According to the attorney general's and Alameda DA's offices, the DISH settlement is the fifth case of a telecom industry giant addressing unlawful disposal and management of hazardous waste. The two offices have also successfully prosecuted AT&T, Comcast, DirecTV, and Cox Communications for similar environmental violations related to illegal disposals of large volumes of electronic waste from their cable and satellite video services.
Source Here: sanfrancisco.cbslocal.com