COVID Stay at Home: Sonoma Health Officer Urges Residents to Stay Home Amid Omicron Surge
SANTA ROSA (CBS SF) – Citing a rapid rise in COVID-19 cases due to the omicron variant in Sonoma County, health officials announced restrictions on some large gatherings and urged people to travel only when necessary for the next month.
Health Officer Dr. Sundari Mase issued an order prohibiting large gatherings of more than 50 people indoors and more than 100 people outdoors where social distancing can't be maintained. The order is in effect from 12:01 a.m. on Wednesday, January 12 and is scheduled to continue through February 11.
"Our case rates are at their highest level since the pandemic began and our hospitalizations are climbing at an alarming rate as well," Mase said in a statement to residents on Monday. "We are seeing widespread transmission occurring within unvaccinated groups as well as some transmission among vaccinated individuals."
Mase claimed that among cases where the source of transmission is known, more than half emerged from large gatherings.
According to Mase, the case rate in Sonoma County has increased from 24.4 per 100,000 per day to more than 121 new cases per 100,000 per day. The county's test positivity rate also reached 16.5%, a pandemic high. Officials anticipate cases to continue rising through January.
Gatherings covered by the order include private or public events "that bring people together in a single room or single place at the same time" such as in auditoriums, stadiums, arenas, wedding venues or meeting halls.
Several exceptions were also listed.
"Large gatherings do not include those that occur as a part of regular school instructional events or outdoor recess, workplace settings, courthouse activities, places of worship, cafeterias, or any venue that is open to the public as part of regular operations such as shopping malls, stores, restaurants/food facilities and museums," county officials said in a statement.
Along with the gathering restrictions, Mase voluntarily urged residents to stay home as much as possible for the next 30 days, recommending travel only to work and school and for necessary trips such as to the grocery store or to the doctor.
Mase also recommended vaccinations and booster shots to those who have yet to receive them, along with the wearing of surgical masks or higher-quality face coverings such as N95, KF94 or KN95 masks.
"The next 30 days will be key to helping us stop this rapid spread of this highly contagious variant in our community. We need to get vaccinated and boosted, wear high-quality masks, avoid large gatherings and stay home as much as possible," Mase said.
Original Post: sanfrancisco.cbslocal.com
A First As the World Warms: New Forecasts Could Help Predict Marine Heat Waves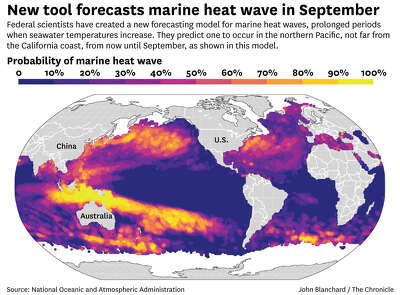 Scientists have developed a new system to predict when and where marine heatwave is likely to develop.
Collisions Cause Major Traffic Backups in Bothell and Arlington
Traffic in the Puget Sound region came to a stop Wednesday morning due to two separate incidents, one in Bothell and the other near Arlington. On southbound Interstate 405 in Bothell, a collision near Highway 527 closed the two right lanes, the Washington State Department of Transportation announced on Twitter. The resulting traffic backup is […]
Source Here: seattletimes.com
DISH Network to Pay $5.5M Settlement Over Alleged Hazardous Waste Disposal Violations
OAKLAND (CBS SF) — Satellite TV provider DISH Network will pay $5.5 million to settle a lawsuit accusing it of illegally disposing of hazardous waste in Alameda County and elsewhere in the state.
DISH Network is alleged to have violated California environmental laws by sending hazardous waste to local landfills that are not equipped or authorized to receive the waste.
According to state Attorney General Rob Bonta, audits of DISH facilities in California found that DISH repeatedly disposed of hazardous waste since 2005 in violation of the Hazardous Waste Control Law and Unfair Competition Law.
"If you break the rules, we will hold you accountable," said Bonta in a press release. "For years, DISH carelessly disposed of and sent hazardous waste to local landfills, ignoring the consequences for our communities and our environment. From there, hazardous chemical elements from electronic devices, batteries, aerosols, and more could seep into soil and contaminate our environment. Today's settlement is critical. Large corporations like DISH have a responsibility to respect our environmental laws and do their part to protect our state's precious resources."
"My Office is committed to holding corporate polluters accountable for violations of state environmental laws," said Alameda County District Attorney Nancy O'Malley in a statement. "Hazardous electronic waste is ubiquitous, and everyone must do their part to keep these items out of the landfill, especially large corporations who handle high volumes of electronic waste."
As a provider of TV and video services to residential and business customers, DISH employees manage large volumes of electronic equipment, such as remote controls, transformers, and power adapters, various batteries, aerosol cans, and other items classified as hazardous waste.
The Colorado-based company will pay for penalties, costs, and supplemental environmental project to benefit the community while making significant changes to its operations and practices to come into compliance with state law.
Specifically, DISH must:
• Pay $5.5 million, including $3.32 million in civil penalties, $835,500 in litigation costs, and $845,000 for supplemental environmental projects. DISH must also spend $500,000 to implement enhanced environmental compliance measures to ensure proper management of hazardous waste at its California facilities.
• Hire an independent third-party auditor to perform environmental compliance audits at DISH's 25 facilities across the state;
• Conduct regular inspections of facility trash dumpsters and roll-off containers to ensure the containers do not contain hazardous waste; and
• Provide training to employees to ensure compliance with California's hazardous waste laws.
According to the attorney general's and Alameda DA's offices, the DISH settlement is the fifth case of a telecom industry giant addressing unlawful disposal and management of hazardous waste. The two offices have also successfully prosecuted AT&T, Comcast, DirecTV, and Cox Communications for similar environmental violations related to illegal disposals of large volumes of electronic waste from their cable and satellite video services.
Source Here: sanfrancisco.cbslocal.com