Bone-Chilling Temperatures; Flurries in Wine Country; Sierra Remains Snowbound
SAN FRANCISCO (CBS SF) — Waves of frigid air continued to cascade down the West Coast Tuesday, plunging temperatures to near freezing levels across the San Francisco Bay Area, triggering snow flurries in the hills above Wine Country and keeping I-80 shutdown in the snowbound Sierra.
Another round of isolated showers dampened Bay Area roadways during the Tuesday morning commute with heavier rain predicted for Tuesday evening into Wednesday morning.
"There will be more noticeable rain Tuesday night through Wednesday morning," said KPIX 5 meteorologist Darrin Peck. "It's not a lot, maybe a quarter inch of rain, and that's it for Tuesday and Wednesday."
Temperatures plunged into the mid-30 in some areas overnight, forcing residents in the Wine Country community of Angwin to scrape off snow and frost from their windshields.
"As a general rule of thumb, there's 50% chance of seeing snow flakes they are below the freezing level," the National Weather Service said. "Don't expect accumulations of snow below 2000 ft. However the flakes can be fun to look at. They won't last long, as warmer air moves in later this morning."
A blanket of snow remained on Mt. Hamilton and Mt. Diablo.
Like communities across the Bay Area, the frigid conditions forced Marin County officials to activate their severe weather emergency shelter program for homeless people.
"We know that folks have been living through a number of wet days already, so we're eager to get people indoors to dry off and warm up, especially those who are most medically needy," Gary Naja-Riese, director of the county's homelessness division, told the Marin Independent Journal.'
Meanwhile in the snowbound Sierra, Highway 50 finally reopened to westbound & eastbound traffic from Placerville to Meyers early Tuesday.
I-80 remained closed from Colfax to the Nevada State-line as Caltrans crews worked around the clock to remove several feet of snow and fallen trees from the roadway.
At Donner Pass, officials with the University of California, Berkeley's Central Sierra Snow Laboratory got another 8.4 inches over the last 24 hours bringing December's total to 202 inches — the third snowiest month on record dating back to 1970.
"A spot of sunlight peaked through the clouds this morning," lab workers tweeted. "But it won't last long with more snow on the way."
The National Weather Service echoed the prediction.
"Lighter accumulations (Tuesday morning) compared to recent days, but the next upper level feature diving through the West Coast will usher in yet another round of heavy snow to the Sierra Nevada late Tuesday into Wednesday," forecasters warned. "By early Thursday morning, another 1 to 2 feet of snow will have fallen in throughout much of the Sierra Nevada with locally higher totals in the tallest peaks."
The challenging weather conditions were slowing the search for 43-year-old Rory Angelotta, of Truckee, who has been missing ever since he was last seen Saturday morning at the Northstar ski resort.
According to the Placer County Sheriff's Office, Angelotta was reported missing when he failed to show up for dinner Saturday night with friends. His car was found in the resort parking lot and his calls went straight to voicemail.
The Placer County Sheriff's Office responded and immediately dispatched additional emergency resources including Tahoe Nordic Search and Rescue, Nevada County Search and Rescue and Northstar Ski Patrol on Sunday.
The investigation has revealed that around 11:30 a.m., Angelotta's ski pass was scanned at the Comstock lift. There was no other activity registered to his pass since that time.
"Searchers responded and combed the mountain and surrounding areas, despite extreme weather," the Placer County Sheriff's Department said. "Rescue personnel were on skis, snowmobiles, and a snowcat during their search. They faced high avalanche danger, strong winds, whiteout flurries, frigid temperatures, and heavy snow loads before calling off their search in the evening."
The sheriff said Angelotta was an experienced skier and was believed to have avalanche equipment on him.
Article: sanfrancisco.cbslocal.com
A First As the World Warms: New Forecasts Could Help Predict Marine Heat Waves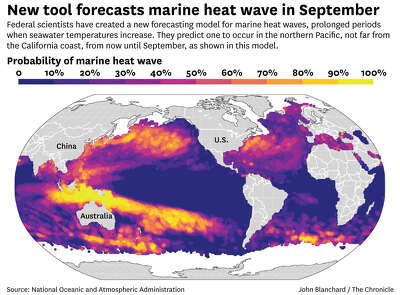 Scientists have developed a new system to predict when and where marine heatwave is likely to develop.
Collisions Cause Major Traffic Backups in Bothell and Arlington
Traffic in the Puget Sound region came to a stop Wednesday morning due to two separate incidents, one in Bothell and the other near Arlington. On southbound Interstate 405 in Bothell, a collision near Highway 527 closed the two right lanes, the Washington State Department of Transportation announced on Twitter. The resulting traffic backup is […]
Source Here: seattletimes.com
DISH Network to Pay $5.5M Settlement Over Alleged Hazardous Waste Disposal Violations
OAKLAND (CBS SF) — Satellite TV provider DISH Network will pay $5.5 million to settle a lawsuit accusing it of illegally disposing of hazardous waste in Alameda County and elsewhere in the state.
DISH Network is alleged to have violated California environmental laws by sending hazardous waste to local landfills that are not equipped or authorized to receive the waste.
According to state Attorney General Rob Bonta, audits of DISH facilities in California found that DISH repeatedly disposed of hazardous waste since 2005 in violation of the Hazardous Waste Control Law and Unfair Competition Law.
"If you break the rules, we will hold you accountable," said Bonta in a press release. "For years, DISH carelessly disposed of and sent hazardous waste to local landfills, ignoring the consequences for our communities and our environment. From there, hazardous chemical elements from electronic devices, batteries, aerosols, and more could seep into soil and contaminate our environment. Today's settlement is critical. Large corporations like DISH have a responsibility to respect our environmental laws and do their part to protect our state's precious resources."
"My Office is committed to holding corporate polluters accountable for violations of state environmental laws," said Alameda County District Attorney Nancy O'Malley in a statement. "Hazardous electronic waste is ubiquitous, and everyone must do their part to keep these items out of the landfill, especially large corporations who handle high volumes of electronic waste."
As a provider of TV and video services to residential and business customers, DISH employees manage large volumes of electronic equipment, such as remote controls, transformers, and power adapters, various batteries, aerosol cans, and other items classified as hazardous waste.
The Colorado-based company will pay for penalties, costs, and supplemental environmental project to benefit the community while making significant changes to its operations and practices to come into compliance with state law.
Specifically, DISH must:
• Pay $5.5 million, including $3.32 million in civil penalties, $835,500 in litigation costs, and $845,000 for supplemental environmental projects. DISH must also spend $500,000 to implement enhanced environmental compliance measures to ensure proper management of hazardous waste at its California facilities.
• Hire an independent third-party auditor to perform environmental compliance audits at DISH's 25 facilities across the state;
• Conduct regular inspections of facility trash dumpsters and roll-off containers to ensure the containers do not contain hazardous waste; and
• Provide training to employees to ensure compliance with California's hazardous waste laws.
According to the attorney general's and Alameda DA's offices, the DISH settlement is the fifth case of a telecom industry giant addressing unlawful disposal and management of hazardous waste. The two offices have also successfully prosecuted AT&T, Comcast, DirecTV, and Cox Communications for similar environmental violations related to illegal disposals of large volumes of electronic waste from their cable and satellite video services.
Source Here: sanfrancisco.cbslocal.com