Bay Area Startup Sets Sights on Developing 'Perpetually Flying Drone'
EMERYVILLE (CBS SF) — A Bay Area startup has set its sights on developing a "perpetually flying drone", that can stay airborne for days, or even weeks at a time, by using artificial intelligence to detect rising air thermals.
Kraus Hamdani Aerospace, based in Emeryville, says it successfully completed a 26-hour, non-stop flight earlier this year.
Stefan Kraus, the co-founder and CTO, dismisses critics who pass off the effort as mere science fiction talk.
"We have the engineers, we have the science. We do know what we're doing," said Kraus. "By the end of this year you will. So by 2022, absolutely."
The company's flagship drone, the K1000 Ultra Long Endurance Unmanned Aerial System, has a wingspan of 16 feet, but weighs only 15 pounds.
The large wings also provide ample surface area for solar panels, that are used to recharge the battery. According to Kraus, the aircraft's proprietary materials add strength and rigidity, but not weight.
To further reduce weight, the vehicle has no landing gear, and instead scrapes to a halt on replaceable 3D-printed plastic skids.
"This is basically like my own child. For me, this is everything," said Kraus.
Fatema Hamdani, the other co-founder and CEO, said the engineering and design teams looked to nature for inspiration for long-endurance flights.
According to Hamdani, the aircraft's sensors scan for thermals, rising pockets of hot air, and shut off the engines to conserve power. The engine's blades then fold back to reduce drag, and the drone essentially converts to a glider.
"So we looked at birds, birds that fly long distances," he said. "They're not constantly flapping their wings. We are constantly monitoring environmental conditions, algorithmically, then feeding that back into the autopilot so we can optimize on that."
Hamdani hopes long endurance drone flights will allow technology to "change the world", by improving long-term surveillance or search and rescue operations. The company is also testing radio and cell phone transmitters on board.
Being airborne for long stretches also has implications for climate research and real-time 24/7 monitoring of wildfires. Traditional manned flights over wildfires are often difficult and hazardous because of smoke, and usually do not occur during nighttime hours.
"Persistent assets that are flying nonstop, fully autonomously, most cost effectively and efficiently, can change how we do disaster management," said Hamdani. "Today we're doing what people thought would never be possible. It's a contribution, and all of us are drops in the ocean that contribute to changing the world."
Source Here: sanfrancisco.cbslocal.com
A First As the World Warms: New Forecasts Could Help Predict Marine Heat Waves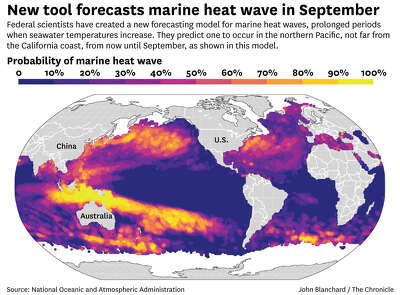 Scientists have developed a new system to predict when and where marine heatwave is likely to develop.
Collisions Cause Major Traffic Backups in Bothell and Arlington
Traffic in the Puget Sound region came to a stop Wednesday morning due to two separate incidents, one in Bothell and the other near Arlington. On southbound Interstate 405 in Bothell, a collision near Highway 527 closed the two right lanes, the Washington State Department of Transportation announced on Twitter. The resulting traffic backup is […]
Source Here: seattletimes.com
DISH Network to Pay $5.5M Settlement Over Alleged Hazardous Waste Disposal Violations
OAKLAND (CBS SF) — Satellite TV provider DISH Network will pay $5.5 million to settle a lawsuit accusing it of illegally disposing of hazardous waste in Alameda County and elsewhere in the state.
DISH Network is alleged to have violated California environmental laws by sending hazardous waste to local landfills that are not equipped or authorized to receive the waste.
According to state Attorney General Rob Bonta, audits of DISH facilities in California found that DISH repeatedly disposed of hazardous waste since 2005 in violation of the Hazardous Waste Control Law and Unfair Competition Law.
"If you break the rules, we will hold you accountable," said Bonta in a press release. "For years, DISH carelessly disposed of and sent hazardous waste to local landfills, ignoring the consequences for our communities and our environment. From there, hazardous chemical elements from electronic devices, batteries, aerosols, and more could seep into soil and contaminate our environment. Today's settlement is critical. Large corporations like DISH have a responsibility to respect our environmental laws and do their part to protect our state's precious resources."
"My Office is committed to holding corporate polluters accountable for violations of state environmental laws," said Alameda County District Attorney Nancy O'Malley in a statement. "Hazardous electronic waste is ubiquitous, and everyone must do their part to keep these items out of the landfill, especially large corporations who handle high volumes of electronic waste."
As a provider of TV and video services to residential and business customers, DISH employees manage large volumes of electronic equipment, such as remote controls, transformers, and power adapters, various batteries, aerosol cans, and other items classified as hazardous waste.
The Colorado-based company will pay for penalties, costs, and supplemental environmental project to benefit the community while making significant changes to its operations and practices to come into compliance with state law.
Specifically, DISH must:
• Pay $5.5 million, including $3.32 million in civil penalties, $835,500 in litigation costs, and $845,000 for supplemental environmental projects. DISH must also spend $500,000 to implement enhanced environmental compliance measures to ensure proper management of hazardous waste at its California facilities.
• Hire an independent third-party auditor to perform environmental compliance audits at DISH's 25 facilities across the state;
• Conduct regular inspections of facility trash dumpsters and roll-off containers to ensure the containers do not contain hazardous waste; and
• Provide training to employees to ensure compliance with California's hazardous waste laws.
According to the attorney general's and Alameda DA's offices, the DISH settlement is the fifth case of a telecom industry giant addressing unlawful disposal and management of hazardous waste. The two offices have also successfully prosecuted AT&T, Comcast, DirecTV, and Cox Communications for similar environmental violations related to illegal disposals of large volumes of electronic waste from their cable and satellite video services.
Source Here: sanfrancisco.cbslocal.com