Alleged Chinese Spies Tried to Rob Bay Area Figure Skating Star Alysa Liu of Her Olympic Moment
RICHMOND (CBS SF/AP/CBS News) — Bay Area figure skating champion Alysa Liu and her family in Richmond were among those targeted in a spying operation that the Justice Department alleges was ordered by the Chinese government.
Arthur Liu told The Associated Press he had been contacted by the FBI last October, and warned about the scheme just as his 16-year-old daughter was preparing for the Beijing Winter Olympics. The father said he did not tell his daughter about the issue so as not to scare her or distract her from the competition.
Arthur Liu said he took a stand against China's bullying by allowing his daughter to compete at the recent Olympic Winter Games, where she placed 7th in the women's event.
"This is her moment. This is her once-in-a-lifetime opportunity to compete at the Olympic Games. I'm not going to let them stop her from going and I'll do whatever I can to make sure she's safe and I'm willing to make sacrifices so she can enjoy the moment," Arthur Liu said. "I'm not going to let them win — to stop me — to silence me from expressing my opinions anywhere."
The father — a former political refugee — said he agreed to let his daughter compete with assurances from the State Department and U.S. Olympic Committee that Alysa Liu would be closely protected and kept safe while competing in China. They said she would have at least two people escorting her at all times.
"They are probably just trying to intimidate us, to … in a way threaten us not to say anything, to cause trouble to them and say anything political or related to human rights violations in China," Arthur Liu said. "I had concerns about her safety. The U.S. government did a good job protecting her."
But the contact left the family fearful.
"We believed Alysa had a very good chance of making the Olympic Team and truly were very scared," he said.
The Justice Department earlier Wednesday announced charges against five men accused of acting on behalf of the Chinese government for a series of brazen and wide-ranging schemes to stalk and harass Chinese dissidents in the United States.
Arthur Liu — a former political refugee — said he and his daughter were included in the criminal complaint as "Dissident 3" and "family member," respectively.
Chinese Foreign Ministry spokesperson Zhao Lijian said he was "not aware of the specifics" surrounding the allegations, but said China is "firmly opposed to the U.S. slandering by making an issue of this out of thin air."
"China always asks Chinese citizens to abide by the laws and regulations of host countries, and we would never ask our citizens to engage in activities that violate local laws," Zhao told reporters at a daily briefing Thursday. "The so-called transnational harassment schemes are just trumped up."
Arthur Liu said a man called him in November claiming to be an official with the U.S. Olympic & Paralympic Committee, and asked for his and his daughters' passport numbers. Arthur Liu refused to provide them and said he would call his contact at Team USA the next day.
"I didn't feel good about it. I felt something fishy was going on," Arthur Liu said. "From my dealings with the U.S. Figure Skating association, they would never call me on the phone to get copies of our passports. I really cut it short once I realized what he was asking for."
The U.S. Olympic & Paralympic Committee couldn't immediately be reached for comment. A spokesman for U.S. Figure Skating deferred comment to Team USA.
Arthur Liu does not remember being approached in person by Matthew Ziburis, who was arrested Tuesday on charges that include conspiring to commit interstate harassment and criminal use of a means of identification. Ziburis was released on a $500,000 bond.
Prosecutors allege that Ziburis was hired to perform surveillance on the family and pose as a member of an international sports committee to ask Arthur Liu for a copy of his and Alysa Liu's passports by claiming it was a travel "preparedness check" related to COVID-19. The complaint said when Arthur Liu refused, Ziburis threatened to delay or deny them international travel.
The elder Liu said he left China in his 20s as a political refugee because he had protested the Communist government following the 1989 Tiananmen Square massacre. Arthur Liu eventually settled in the Bay Area, put himself through law school and nurtured one of America's most promising athletes.
His daughter visited their ancestral homeland for the first time while at the Olympics. Arthur Liu said his daughter has generally been warmly embraced by Chinese fans and media, who considered Alysa Liu to be one of their own.
But through the spying investigation, he learned that China was aware of an Instagram message about human rights violations against the ethnic minority Uyghurs that his daughter once posted. During the Games, Alysa Liu also told her father that she was approached by a stranger late one night at a cafeteria after the free skate event, and that the man followed her and asked her to come to his apartment.
"I've kind of accepted my life to be like this because of what I chose to do in 1989, to speak up against the government. And I know the Chinese government will extend their long hands into any corner in the world," Arthur Liu said. "I'm going to continue to enjoy life and live life as I want to live. I'm not going to let this push me down and I'm not going to let them succeed."
Source Here: sanfrancisco.cbslocal.com
A First As the World Warms: New Forecasts Could Help Predict Marine Heat Waves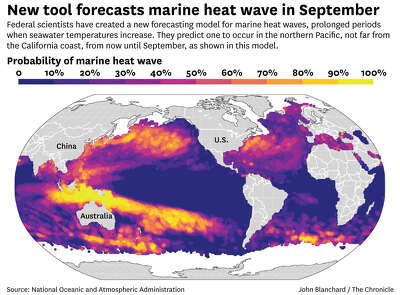 Scientists have developed a new system to predict when and where marine heatwave is likely to develop.
Collisions Cause Major Traffic Backups in Bothell and Arlington
Traffic in the Puget Sound region came to a stop Wednesday morning due to two separate incidents, one in Bothell and the other near Arlington. On southbound Interstate 405 in Bothell, a collision near Highway 527 closed the two right lanes, the Washington State Department of Transportation announced on Twitter. The resulting traffic backup is […]
Source Here: seattletimes.com
DISH Network to Pay $5.5M Settlement Over Alleged Hazardous Waste Disposal Violations
OAKLAND (CBS SF) — Satellite TV provider DISH Network will pay $5.5 million to settle a lawsuit accusing it of illegally disposing of hazardous waste in Alameda County and elsewhere in the state.
DISH Network is alleged to have violated California environmental laws by sending hazardous waste to local landfills that are not equipped or authorized to receive the waste.
According to state Attorney General Rob Bonta, audits of DISH facilities in California found that DISH repeatedly disposed of hazardous waste since 2005 in violation of the Hazardous Waste Control Law and Unfair Competition Law.
"If you break the rules, we will hold you accountable," said Bonta in a press release. "For years, DISH carelessly disposed of and sent hazardous waste to local landfills, ignoring the consequences for our communities and our environment. From there, hazardous chemical elements from electronic devices, batteries, aerosols, and more could seep into soil and contaminate our environment. Today's settlement is critical. Large corporations like DISH have a responsibility to respect our environmental laws and do their part to protect our state's precious resources."
"My Office is committed to holding corporate polluters accountable for violations of state environmental laws," said Alameda County District Attorney Nancy O'Malley in a statement. "Hazardous electronic waste is ubiquitous, and everyone must do their part to keep these items out of the landfill, especially large corporations who handle high volumes of electronic waste."
As a provider of TV and video services to residential and business customers, DISH employees manage large volumes of electronic equipment, such as remote controls, transformers, and power adapters, various batteries, aerosol cans, and other items classified as hazardous waste.
The Colorado-based company will pay for penalties, costs, and supplemental environmental project to benefit the community while making significant changes to its operations and practices to come into compliance with state law.
Specifically, DISH must:
• Pay $5.5 million, including $3.32 million in civil penalties, $835,500 in litigation costs, and $845,000 for supplemental environmental projects. DISH must also spend $500,000 to implement enhanced environmental compliance measures to ensure proper management of hazardous waste at its California facilities.
• Hire an independent third-party auditor to perform environmental compliance audits at DISH's 25 facilities across the state;
• Conduct regular inspections of facility trash dumpsters and roll-off containers to ensure the containers do not contain hazardous waste; and
• Provide training to employees to ensure compliance with California's hazardous waste laws.
According to the attorney general's and Alameda DA's offices, the DISH settlement is the fifth case of a telecom industry giant addressing unlawful disposal and management of hazardous waste. The two offices have also successfully prosecuted AT&T, Comcast, DirecTV, and Cox Communications for similar environmental violations related to illegal disposals of large volumes of electronic waste from their cable and satellite video services.
Source Here: sanfrancisco.cbslocal.com