A New Push for a Comprehensive Gambling Bill
There will be a full push for a comprehensive gaming bill during the 2022 legislative session. 
The Alabama Track Owners Association — a partnership of owners of the four greyhound racing tracks, including the Poarch Creek Indians — are out with new ads on Wednesday that highlight the benefits of the bill and encourage voters to contact their state lawmakers. 
The ads highlight the revenue and jobs associated with the bill and note that the jobs created would be "four automotive manufacturing plants" and generate more than $700 million annually. They also point out that the state of Alabama provided an auto manufacturer with more than $700 million in incentives and tax breaks to bring 4,000 jobs to the state, while the gaming bill will generate that amount annually without a dime of taxpayer funds. 
The ad is referencing the Toyota-Mazda plant near Huntsville, which has been a boon for the North Alabama area and sparked unprecedented economic growth. 
Under the comprehensive gaming bill that lawmakers failed to approve during the last session – but which they feel they have the votes to pass during this session – the state would authorize full casinos at five or six locations, depending on the final version of the bill, and authorize a statewide lottery. 
The resort-style casinos, which would be located at the four existing tracks in Birmingham, Shorter, Eutaw and Mobile — and potentially at existing gaming locations near Dothan and in Lowndes County — are projected to create between 10,000 and 15,000 permanent jobs. Many of those jobs would be in economically depressed areas that lack major industries, another benefit often touted by supporters of the plan. 
State Sen. Greg Albritton has stated previously that he plans to sponsor the comprehensive gaming bill during the 2022 session. It will be very similar to the bill that passed the Senate in 2021, he said. 
The ads will begin on TV stations around the state on Wednesday.
Original Post: alreporter.com
A First As the World Warms: New Forecasts Could Help Predict Marine Heat Waves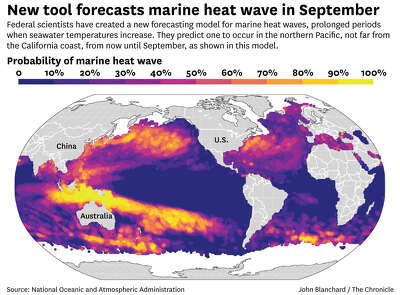 Scientists have developed a new system to predict when and where marine heatwave is likely to develop.
Collisions Cause Major Traffic Backups in Bothell and Arlington
Traffic in the Puget Sound region came to a stop Wednesday morning due to two separate incidents, one in Bothell and the other near Arlington. On southbound Interstate 405 in Bothell, a collision near Highway 527 closed the two right lanes, the Washington State Department of Transportation announced on Twitter. The resulting traffic backup is […]
Source Here: seattletimes.com
DISH Network to Pay $5.5M Settlement Over Alleged Hazardous Waste Disposal Violations
OAKLAND (CBS SF) — Satellite TV provider DISH Network will pay $5.5 million to settle a lawsuit accusing it of illegally disposing of hazardous waste in Alameda County and elsewhere in the state.
DISH Network is alleged to have violated California environmental laws by sending hazardous waste to local landfills that are not equipped or authorized to receive the waste.
According to state Attorney General Rob Bonta, audits of DISH facilities in California found that DISH repeatedly disposed of hazardous waste since 2005 in violation of the Hazardous Waste Control Law and Unfair Competition Law.
"If you break the rules, we will hold you accountable," said Bonta in a press release. "For years, DISH carelessly disposed of and sent hazardous waste to local landfills, ignoring the consequences for our communities and our environment. From there, hazardous chemical elements from electronic devices, batteries, aerosols, and more could seep into soil and contaminate our environment. Today's settlement is critical. Large corporations like DISH have a responsibility to respect our environmental laws and do their part to protect our state's precious resources."
"My Office is committed to holding corporate polluters accountable for violations of state environmental laws," said Alameda County District Attorney Nancy O'Malley in a statement. "Hazardous electronic waste is ubiquitous, and everyone must do their part to keep these items out of the landfill, especially large corporations who handle high volumes of electronic waste."
As a provider of TV and video services to residential and business customers, DISH employees manage large volumes of electronic equipment, such as remote controls, transformers, and power adapters, various batteries, aerosol cans, and other items classified as hazardous waste.
The Colorado-based company will pay for penalties, costs, and supplemental environmental project to benefit the community while making significant changes to its operations and practices to come into compliance with state law.
Specifically, DISH must:
• Pay $5.5 million, including $3.32 million in civil penalties, $835,500 in litigation costs, and $845,000 for supplemental environmental projects. DISH must also spend $500,000 to implement enhanced environmental compliance measures to ensure proper management of hazardous waste at its California facilities.
• Hire an independent third-party auditor to perform environmental compliance audits at DISH's 25 facilities across the state;
• Conduct regular inspections of facility trash dumpsters and roll-off containers to ensure the containers do not contain hazardous waste; and
• Provide training to employees to ensure compliance with California's hazardous waste laws.
According to the attorney general's and Alameda DA's offices, the DISH settlement is the fifth case of a telecom industry giant addressing unlawful disposal and management of hazardous waste. The two offices have also successfully prosecuted AT&T, Comcast, DirecTV, and Cox Communications for similar environmental violations related to illegal disposals of large volumes of electronic waste from their cable and satellite video services.
Source Here: sanfrancisco.cbslocal.com